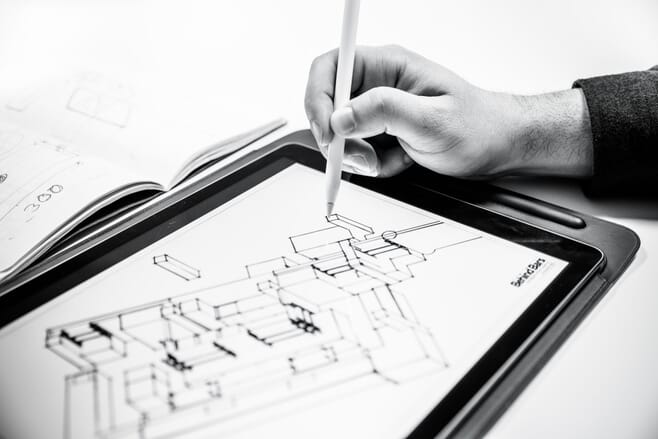 Here are 5 questions you should think about before handing over your bar sketch to a professional designer.
We receive sketch ideas of bar stations in multiple formats. From scribbled on the back of cocktail napkins, to Adobe Illustrator files, to 3D architecture models that would leave many interior designers crying in the corner. The folks working in the hospitality industry have a wide range of extra skills. Every now and then we get to see brilliant designs right from word one.
Many times however, and most often, we come into the design process at the early stage. The bar station is just an idea. These ideas are often primed with enthusiasm and excitement about visualising the end product. We love to see that and this energy is always welcome. If you're having trouble getting there though, here are some questions to ponder that might help with the process.
1. What is the purpose of the bar?
Knowing the reason for the design can push you in a certain direction right from the start. I hesitate to use the word "theme". "Theme restaurants or bars" are very symbolic of the 80´s and 90´s when it comes to globally franchised dominated brands.
However if we don't get stuck thinking about those types of "rock n roll" themed venues and instead look at your "theme" for your particular venues point of view, then we can start to draw some lines in the sand.
Will you be creating a high-end cocktail bar that can hold 40 people, 8 seats at the bar and is run by two people?
Will it be a high volume location, 80 beers on tap, with a short menu of 5 house specials and 20 members of staff?
Is it a sit down, wine bar, or coffee lounge?
Will your guests be ordering at the bar? Sitting at the bar? Not sitting at the bar?
Define the purpose of the bar and what you will need it to do and that will mean thinking about the whole venue, not just the working stations.
Moe from Two Schmucks in Barcelona defined it this way.
2. What does the bar's busiest day look like?
Unless we are building a bar for a private home, all bars in the market place need to generate income. The better the bar, the better the productivity. The better joy of work experience, the better guest interactions. The better you think of these things now, the better the sales in the future.
Make no mistake, this is all about generating sales, which, when managed correctly can leave a profit on the table for the ownership group. That is the mission!
When designing the bar stations, we don't ever want to leave money at the door. What I mean by that is this;
If you can anticipate what the busiest day(s) will look like for the venue, then you should design with that day or those days in mind. There is no point having the opportunity to serve 10x the amount of people than you normally do, to only discover that you were not set up or built to handle the bigger volumes once they came through the door.
The day your marketing all clicks into gear and the day when another activity in the city means that an extra 100,000 tourists have come to town (and will need a place to drink), THAT'S THE DAY you want to be able to open the cash registers and maximise your venue's sales capabilities.
Not being ready for those types of days means you are leaving good money at the door.
Get out a calendar and map out other activities that you know are happening in your area.
Example: A bar in Melbourne.
We know that three key things are going to happen every year in Melbourne.
Australian Open for tennis fans.
Australian Grand Prix for F1 fans.
Melbourne Comedy Festival for people who love to laugh.
Bars in Melbourne can set their clocks to these types of activities. Some of them will mean no change in their operation. For others this added boost of tourism means everything for their sales that year.
Your city location will have similar things that you can point to, before ever designing the bar. This type of thinking can mean the difference between making space for 3 bar stations instead of 2 bar stations, even if that third station has a cover over it for 80% of the year.
3. Who will be working the bar?
Understanding the skill level of your employees or your future employees is also something to consider. Many professional bartenders want to stand a certain way, move a certain way and deliver a very specific type of product to their guests.
Your bar operation might be trying to achieve high volume sales with 20-22 year old university students working the bar. The level of professionalism and skill level may be quite different.
Building a bar with all the bells and whistles might not be necessary or could be too complex for certain styles of employees.
Likewise, your goal may be to have a very professional, super productive bar that inspires excellence. Your ambition may be to have other bartenders fly in from all over the world to do guests shifts and you want your bar station and design to be something your peers will be impressed by. Knowing all of this before you start, will help drive your design in a clear direction.
4. What menu items will it need to push out? Today and in the future?
Thinking about the menu is also a solid move. The menu will change over time and so will trends. Some bars create the trends and others follow. Defining the role of your bar inside the hospitality industry can also help you decide how to think about the design process.
You might decide that your bar will never need to be recognised inside the circle of The World's 50 Best Bars. That's totally fine. Your menu might be geared solely towards your local guests and you might be pushing out 1000's of drinks a month.
Deciding if your menu will include blended drinks, or a slushy machine, or cocktails on draft, or only stirred classics can help narrow the design field. However, don't forget to plan for the future!
5. Measure twice, cut once.
Don't worry if you're not an expert with a tape measure, any professional design agency you hire will come and do measurements or have the measurements done on your behalf.
The old building ethos of "measure twice, cut once" is super important. Especially in weird locations where bars can end up. Very rarely does a bar get the chance to be an island, away from walls or corners. These walls and corners might look straight to the naked eye, but once you get a laser measuring device out of the holster, point it at the wall and watch the red dot do its magic, you might quickly discover that not all is straight and even.When you're doing your sketches, try to be as accurate as possible, but make sure your design agency takes great care in how things are measured up.