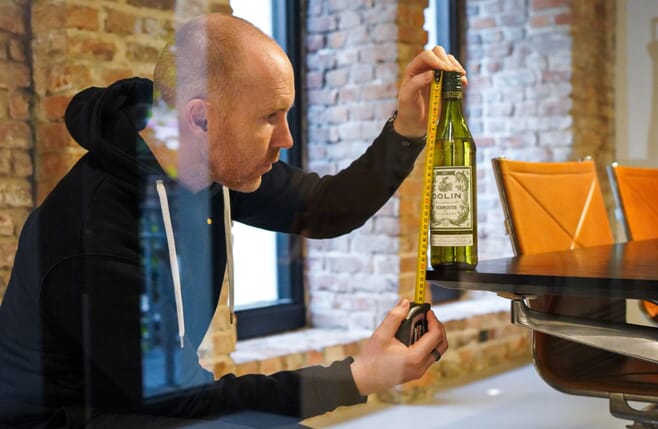 Four more subjects you should think about before handing over your bar design to a professional designer.
This is part 2 of a 2 part blog about how to sketch your ideal bar station. It also gives you a few things to think about with your bar design. If you missed part 1, be sure to catch it here. In part 1 we gave you a few things to think about. Here's a handful more.
6. Who owns the designs?
Unless you're working for a design company (like us), chances are you will need to give your drawings to a professional. Naturally, you're looking for your ideas to be turned into bar station reality. The issue then of who owns the rights to these drawings or designs is something to consider. Navigating Intellectual Property rights (IP) can be a difficult challenge. Filled with muddy water and slippery slopes.
IP is one of those areas where it's fair to say; "that's sort of true… sometimes… but not really, but depending on where you are and who you're dealing with, then maybe, yes… hang on… absolutely yes…oh wait.."
IP law and where your design falls within it, is a tricky business. First of all, unless you have the means to legally defend your IP, may not be very protective at all. Defending IP is not cheap, and even if things escalate to court, it's not always crystal clear as to who owns what. Many battles have been fought over what constitutes inspiration versus flat out copying.
What you should prepare yourself for is the inevitable question from the design team you work with which will be; "Is this an original design from you or have you stolen it from someone else?"
"Art is theft" – said Pablo Picasso. Don't be worried if you have taken inspiration from another bar station. Inspiration is fine. What is not so fine is taking an image of the net to a designer and saying 'copy this'. Most designers understand that a design is a carefully thought out process of many elements. Most professionals will be hesitant to copy someone else's work. Not only is it unethical, it opens them up to legal prosecution.
You should do your best to cover yourself and know as much as possible about this topic. Legal Zoom has some interesting articles about this topic in further depth, so if you're interested you should learn more.
7. Health and Safety.
Every country has their own standards on this. As you put your ideas onto paper, you should be thinking of the legalities of the final design. For example, in many countries food and beverage servers need to have a separate hand sink. The sink needs its own soap and sanitizer dispensers readily available and up to code. Some governments need those dispensers to work with a sensor, so hands don't actually touch them. Knowing these types of intricate details will help form your bar design and prepare your thoughts correctly.
These sinks need to be close to the action, not in a room out the back, and must be used for the sole purpose of washing hands. They are not to be used for washing mixing tins out, or throwing a blender into the sink.
Other things to think of include where the electrical outlets will be plugged in? The movement of heavy items in the bar, specifically beer kegs, or bottle bins. Maybe the bottle bin in your bar needs to be (by law or just good practise) in its own little basket with wheels on it. Those bins can get heavy to lift at an awkward angle. So that everything fits as it should, those extras need to be taken into consideration during the design phase.
8. Plumbing and Electrics.
By the time you get your design to the professionals, a conversation must arise about plumbing and electrics. If this is not happening in your design meetings then raise the alarm! Great bar design incorporates a holistic approach. Pipes and electrics are a major part of that.
The plumber is not just responsible for installing pipes for removing water, but may also be responsible for setting up the water pressure out of the tap, beer lines or draft cocktail taps, soda guns, and drains in the floor. Get to know a plumber. They run the city!
Same is said for electricians. They have a way of working around all sorts of set ups. However if you have clearly defined where the outlets should be that's a great help. Why they need to be there is even better. And what risks their position pose to the health and safety of the bartenders, then you are already miles in front.
Power outlets in bars are responsible for a range of items, including, hand held mixers, blenders, cook tops, phone chargers and slushy machines, just to name a few. When it comes to power, there is single phase and three phase in the hospitality industry. Single phase is for your standard plug in device that you would also be able to use at home. Machines that need a heavier dose of power require a bigger plug and a three phase outlet. Professional washing machines or espresso machines for example. Knowing what type of equipment you want to put in the bar area will determine your need for the different types of power options.
Having an early conversation with your plumber and electrician will save you a lot of time, money and stress during installation.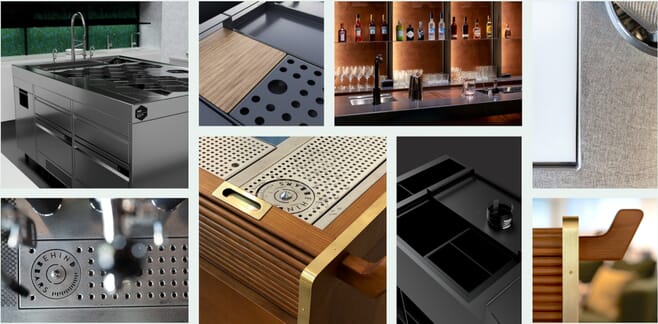 9. Make a Mood Board.
Sometimes, when we want to put our design down on paper, wording and line drawings can only take us so far. Many times it's easier to paint an overall picture showing examples in image form. Enter, the Mood Board. Here's where you forage the internet, google imaging ideas and finding examples of what you want. You may not find what you want, but you will find something that illuminates the feeling of your idea. Pinterest might be the world's most famous collection of mood boards, so use this is a resource and as inspiration to get you started.
So hopefully with these tips you can get out your sketch pad, sharpen your pencil and start creating the world's next top 50 bar. Happy drawing.